The Martian
(PG-13)
Rated for some strong language, injury images, and brief nudity

Matt Damon, Jessica Chastain
- 2 hr. 21 mins.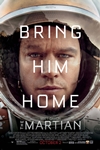 During a manned mission to Mars, Astronaut Mark Watney is presumed dead after a fierce storm and left behind by his crew. But Watney has survived and finds himself stranded and alone on the hostile planet.
Official Site
Trailer
---
Hotel Transylvania 2
(PG)
Rated for some scary images, action and rude humor

Adam Sandler, Andy Samberg
- 1 hr. 29 mins.
When the old-old-old-fashioned vampire Vlad arrives at the hotel for an impromptu family get-together, Hotel Transylvania is in for a collision of supernatural old-school and modern day cool.
Official Site
Trailer
---
The Intern
(PG-13)
Rated for some suggestive content and brief strong language

Robert De Niro, Anne Hathaway
- 2 hr. 1 mins.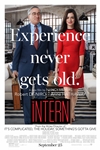 Ben Whittaker is a 70-year-old widower who has discovered that retirement isn't all it's cracked up to be. Seizing an opportunity to get back in the game, he becomes a senior intern at an online fashion site, founded and run by Jules Ostin.
Official Site
Trailer
---