St. Vincent
(PG-13)
Rated for mature thematic material including sexual content, alcohol and tobacco use, and for language

Melissa McCarthy, Bill Murray
- 1 hr. 43 mins.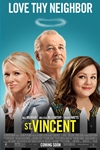 Maggie, a single mother, moves into a new home in Brooklyn with her 12-year old son, Oliver. Forced to work long hours, she has no choice but to leave Oliver in the care of their new neighbor, Vincent, a retired curmudgeon with a penchant for alcohol and gambling.
Official Site
Trailer
---
Gone Girl
(R)
Rated for a scene of bloody violence, some strong sexual content/nudity, and language

Ben Affleck, Rosamund Pike
- 2 hr. 25 mins.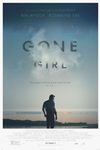 A woman mysteriously disappears on the day of her wedding anniversary. Based on the novel, "Gone Girl."
Official Site
Trailer
---
The Boxtrolls
(PG)
Rated for action, some peril and mild rude humor

Ben Kingsley, Toni Collette
- 1 hr. 40 mins.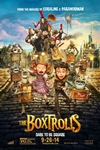 An orphaned boy raised by underground creatures called Boxtrolls comes up from the sewers and out of his box to save his family and the town from the evil exterminator, Arichibald Snatcher.
Official Site
Trailer
---
The Drop
(R)
Rated for some strong violence and pervasive language.

Tom Hardy, Noomi Rapace
- 1 hr. 46 mins.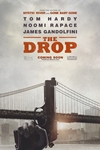 This film takes an inside look at organized crime's use of local New York City bars as money-laundering 'drops'. When lonely Brooklyn bartender Bob Saginowski uncovers a drop of a different sort in the form of a battered pit bull puppy that he rescues from certain death, he comes into contact with Nadia, a mysterious woman hiding a dark past.
Official Site
Trailer
---