Transcendence
(PG-13)
Rated for sci-fi action and violence, some bloody images, brief strong language and sensuality

Johnny Depp, Morgan Freeman
- 2 hr. 0 mins.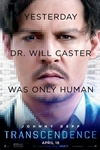 A terminally ill scientist downloads his mind into a computer. This grants him power beyond his wildest dreams, and soon he becomes unstoppable.
Official Site
Trailer
---
Rio 2
(G)
Anne Hathaway, Jesse Eisenberg
- 1 hr. 41 mins.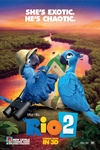 In this film we find Blu, Jewel and their three kids living the perfect domesticated life in that magical city. When Jewel decides the kids need to learn to live like real birds, she insists the family venture into the Amazon.
Official Site
Trailer
---
Captain America: The Winter Soldier
(PG-13)
Rated for intense sequences of violence, gunplay and action throughout

Chris Evans, Scarlett Johansson
- 2 hr. 15 mins.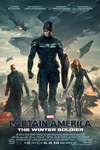 After the cataclysmic events in New York with The Avengers, Steve Rogers, aka Captain America, living quietly in Washington, D.C. and trying to adjust to the modern world. But when a S.H.I.E.L.D. colleague comes under attack, Steve becomes embroiled in a web of intrigue that threatens to put the world at risk.
Official Site
Trailer
---