Ant-Man
(PG-13)
Rated for sci-fi action violence

Paul Rudd, Evangeline Lilly
- 1 hr. 57 mins.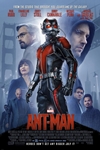 Armed with the astonishing ability to shrink in scale but increase in strength, con-man Scott Lang must embrace his inner-hero and help his mentor, Dr. Hank Pym, protect the secret behind his spectacular Ant-Man suit from a new generation of towering threats. Against seemingly insurmountable obstacles, Pym and Lang must plan and pull off a heist that will save the world.
Official Site
Trailer
---
Minions
(PG)
Rated for action and rude humor

Sandra Bullock, Jon Hamm
- 1 hr. 31 mins.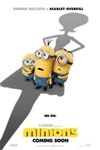 The story of Minions begins at the dawn of time. Starting as single-celled yellow organisms, Minions evolve through the ages, perpetually serving the most despicable of masters. They travel from frigid Antarctica to 1960s New York City, ending in mod London, where they must face their biggest challenge to date: saving all of Minionkind...from annihilation.
Official Site
Trailer
---
Inside Out
(PG)
Rated for mild thematic elements and some action

Amy Poehler, Mindy Kaling
- 1 hr. 42 mins.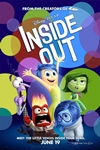 Growing up can be a bumpy road, and it's no exception for Riley. Like all of us, Riley is guided by her emotions - Joy, Fear, Anger, Disgust and Sadness. The emotions live in Headquarters, the control center inside Riley's mind, and help advise her through everyday life.
Official Site
Trailer
---